About Fall Prevention Month
Our Vision:
All Canadians play a role in preventing falls.
Our Mission:
Equip health and service providers, business, government and academia with the tools to raise awareness and engage their communities in preventing falls and fall-related injuries.
Why we need Fall Prevention Month:
Falls are the leading cause of injury-related hospitalizations among Canadian older adults. 20-30% of older adults fall each year [1]
Falls are the leading cause for hospital admissions from injuries for children ages 0 to 9 [2]
Fall Prevention Month encourages organizations to coordinate their efforts for a larger impact. Canadian organizations participate by planning initiatives and sharing evidence-based information on fall prevention. Together we can raise the profile of fall prevention and help everyone see their role in keeping adults and children safe as they age.
Who is involved?
Partners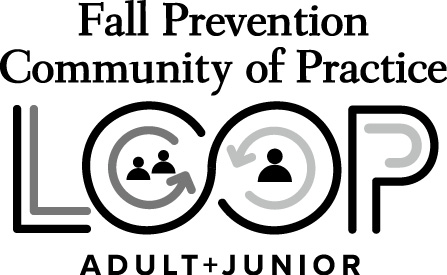 Children's Campaign - Contributors
At the national level:
Child Safety Link
Injury Prevention Centre
Parachute
Montreal Children's Hospital Trauma Centre
Saskatchewan Prevention Institute
Public Health Agency of Canada
Winnipeg Regional Health Authority
In Ontario:
Ontario Neurotrauma Foundation
Haldimand-Norfolk Health Unit
Huron County Health Unit
Southwestern Public Health
Public Health Sudbury & Districts
Toronto Public Health
KFL&A Public Health
York Region Community and Health Services Department
Northwestern Health Unit
Ottawa Public Health
Algoma Public Health
Haliburton, Kawartha, Pine Ridge District Health Unit (HKPR)
Middlesex-London Health Unit
Peterborough Public Health
Durham Region Health Department
London Health Sciences Centre/Children's Hospital
LAMP Community Health Centre
Hamilton Public Health
Fall Prevention Month is also supported by a number of contributors that offer their valuable time, knowledge and skills.
What does this website offer?
Whether you work in preventing falls among adults, older adults, children or across the lifespan, the Fall Prevention Month website offers resources to help organizations successfully organize and promote fall prevention activities.
The website also lists additional resources on various fall prevention related topics. These resources were developed by external organizations and were selected by our Partners to be shared on this website. This site is not intended to be an exhaustive list of fall prevention resources, instead its purpose is to equip providers with evidence-informed resources to help them take action in preventing falls in their work.
How can my organization get involved?
There are many ways to get involved in Fall Prevention Month and showcase the great work of your organization. Find out more here.
Stay connected!
Follow us on Twitter.
Follow, Like and Share our Facebook Page.
Join our mailing list.
[1] Government of Canada (2015). Seniors Falls in Canada – Infographic. Retrieved from https://www.canada.ca/en/public-health/services/health-promotion/aging-seniors/publications/publications-general-public/seniors-falls-canada-second-report/seniors-falls-canada-infographic.html
[2] Parachute. Retrieved from: http://www.parachutecanada.org/child-injury-prevention/item/fall-prevention